Nelson Teamwear Online ordering portal
No more collating order forms, sorting and packing orders.... we do all that for you! All you need to do is get in contact with us!
Nelson Teamwear can offer your sporting club a personalised online ordering portal, allowing members to efficiently and securely order all your merchandise in one place.
How it works:
A dedicated club page will feature all of your chosen club apparel
Each item will feature images, descriptions and sizing charts
Your page will allow ordering for a period of time where members can select, order and securely pay for their merchandise from any online device
Orders will be produced, individually packed and delivered to your club usually around 4-6 weeks after the ordering period closes
The profit margins are set by you and reports are sent to the club regarding rebate amounts and ordered products
The system is completely transparent with visibility of all orders and club profits per item. You can even have serveral openings throughout the year to maximise orders from all your dedicated supporters.
Each product has custom descriptions and images so you can preview what each item will look like. You can also find your correct size using the size chart provided. See below for an example of what your page could look like!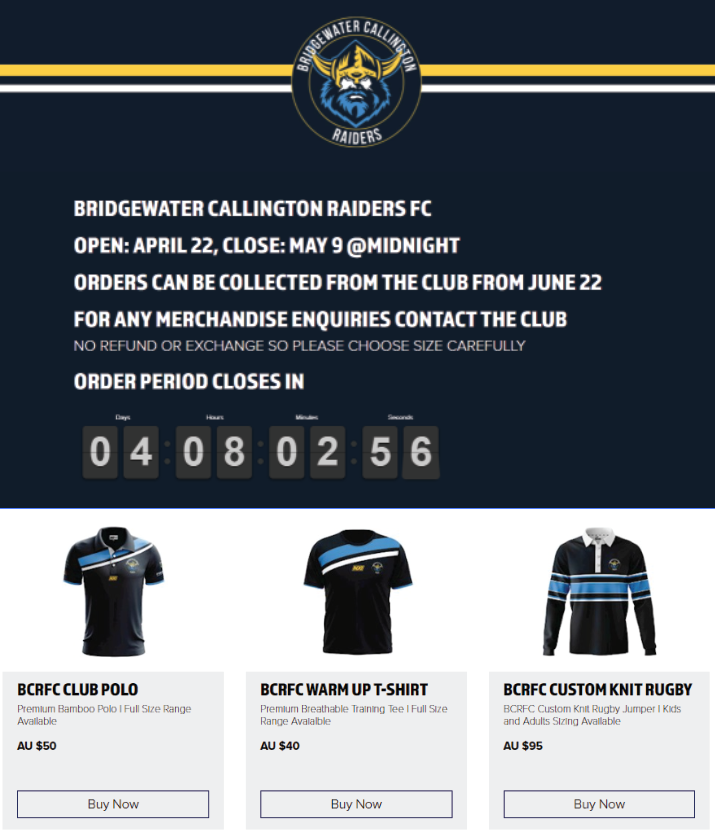 CLUB PAGEs
We love enquiries, talk to our team about what your Team needs
Contact us today to get your apparel or merchandise. Send us an enquiry by filling out the contact form below and selecting submit or call us.
Phone: 08 8357 9066
Address: 111 Rundle St, Kent Town, SA 5067, Australia