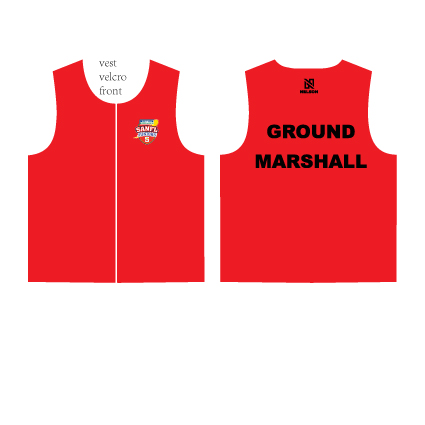 SANFL Juniors Ground Marshall Vest
SANFL Juniors Ground Marshall Vest (Red) available in Unisex: S-5XL
The Responsibilities of a Ground Marshall:
• Ensure all equipment (including a stretcher) for conducting the game is available before the game.
• Ensure the ground is set-up through the movement and placement of goal posts and padding and the interchange area.
• Check with Team Manager that Time Keeper, Runners, Goal and Boundary Umpires and Coaches are aware of or have their Function Cards.
• Receive any formally submitted objections, protests or complaints from Officials of Clubs.
• Ensure that both teams are aware where the interchange area is.
• Seek to ensure Coaches, Team Managers, Boundary Umpires, Goal Umpires, runners, trainers and medical/first-aid personnel wear their identification bib or appropriate uniform.
• Before the commencement of the match, identify compliance with the Sports Trainers Policy.