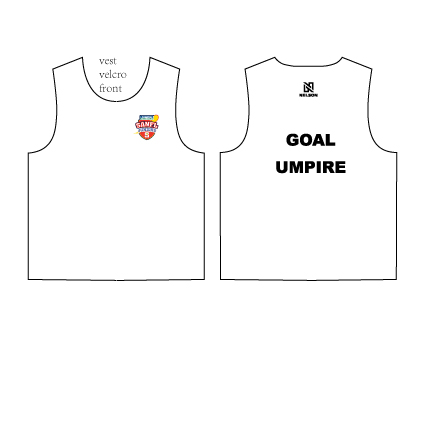 SANFL Juniors Goal Umpire Vest
SANFL Juniors Goal Umpire Vest (White) available in Unisex: S-5XL
Responsibilities of a Goal Umpire:
• Introduce yourself to the field umpire before the commencement of play. • Adjudicate on scoring during the match by standing behind the goal line in line with the flight of the ball. If the ball is high move to a position under the ball's flight to judge the correct score. If the ball is coming in low, move to the post on the line to see that the ball crosses the line fully.
• Wait for the field umpire to give the all clear before giving a decision. A behind is signalled with one arm, a goal is signalled with two arms
• Both goal umpires must waive the flags for a score. One flag is used for a behind, and two flags are used for a goal
• Enter score on card and check with other goal umpire at the end of each quarter and at the end of the game that scores match
• Give the scorecards to the field umpire at the end of the match to sign, and then give scorecard to team manager
• Change ends of the ground at half time.